EMCGrab Analysis As A Service…Why does it make sense?
Does host remediation sound familiar? How about for 1000's of hosts running on multi-petabyte storage?
Many of you who are in the storage field and work on projects related to tech refresh, migration and consolidation projects or on performance issues related troubleshooting, will be well familiar with running a script called EMCGrab. This script is provided by EMC for various operating system platforms and is primarily used for collecting host level configuration data and system logs, which are uploaded to EMC support site for further analysis.
As far as I know there are couple of services provided by EMC that use these logs extensively. One is to provide a HEAT report that will analyze the configuration data and provide a summary on the current versions of HBA firmware and drivers, multi-pathing software versions (such as powerpath), operating system versions etc. Information is provided with respect to the current versions and gaps that may exist due to being out of compliance in terms of the support matrix.  For health-check related issues, one would invariably be requested to upgrade the out of compliance component version before further analysis can be done to trouble-shoot the problem or before the host can be migrated to the new SAN.
I consider this to be a great tool from operational support perspective, where we are dealing with small number of servers to work with. The issue comes when we are dealing with a project (e.g. tech refresh) where we have hundreds or thousands of hosts that need to be analyzed for OS and HW stack compliance before being consolidated or migrated. The current standard operating procedure is to get multiple storage SMEs to collect and analyze this data manually and document the results using spreadsheets.
Not any more…
Interscape is now making a service available as part of their cloud based Perfonics™ tool set that can analyze thousands of hosts very quickly and efficiently using the EMCGrab collected files. All one needs to do is to upload the files to the Interscape cloud and a storage SME will provide a nice report with charts and tables that provides visibility into the current host infrastructure and also provides the gaps in terms of target desired code levels. An Interscape storage SME helps guide the process and reviews results with you. CSV files are also provided that provides all the information in exported format for further spreadsheet based analysis if needed.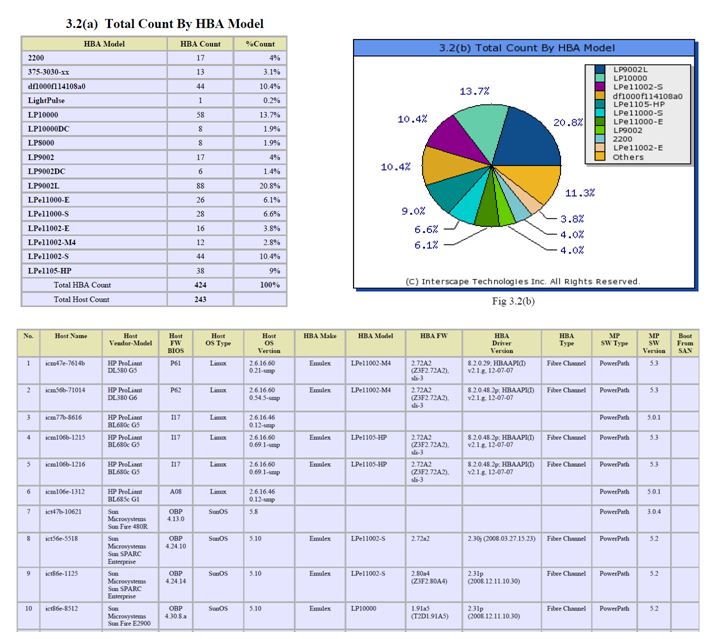 Perfonics™ tool set has been developed over the last 10 years as a proprietary tool that gives a distinctive edge to Interscape storage related services. The tool is based on the real experiences of our storage SME's while implementing over 30 Petabyte and 10,000 host projects, working with large storage manufacturers and large clients. The Performance As A Service™ offering leverages the Perfonics™ tool set to provide Performance, Capacity planning, Consolidation Modeling, Disaster Recovery Planning and Configuration Audit Services.
Please contact alok.jain@interscape.io for any questions or to find out more on this.